January 10th, 2017 Categories: Chico CA Real Estate Market Stats
Chico's home inventory level is LOW! If you've been kicking around the idea of selling, now is the time to call us for a FREE Home Valuation.
Just how low is LOW?
Well, as of this morning, there were only 128 single family detached homes still available in Chico. In my 12 years of real estate, I do not recall inventory ever being this low. Last January we had 229!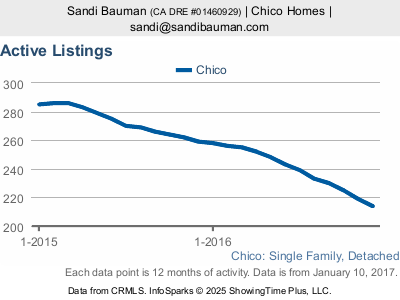 To put that 128 number into perspective, 77 homes sold in Chico in November, and 55 sold in December. At the rate which homes are selling, if no new homes were to come on the market in Chico, we would not have any inventory to sell after about a month!
Suffice it to say, buyer's agents are working extra hard to find properties to suit their buyer's needs. When a property is priced correctly, it is likely receiving multiple offers in a short amount of time. If buyers and agents aren't right on top of it, they will miss the sale.
Average days on market? 18
Sale price compared to original price? 99.7%
Median Sales Price? $310,000. That statistic is up 6% from January 2015.
LIST YOUR HOME NOW TO TAKE ADVANTAGE OF LOW INVENTORY
Traditional wisdom tells us that the best time to list is in the spring. After all, the flowers are blooming, the grass is green, the birds are chirping. Unfortunately, a large number of other Chico sellers will be putting their homes on the market at the same time. Why wait until there is more competition?
Ready to sell?
Please call Sandi Bauman at 530-864-5407 or email [email protected]. 3> It would be my pleasure to discuss your unique property and potential market value.
Authored by | Discussion: Comments Off on Chico Real Estate Inventory Is LOW. List Now.
August 29th, 2012 Categories: Chico Buyers
Ready to begin searching for that perfect Chico home, but haven't yet partnered with a Realtor? The Sandi Bauman Team! at Chico Homes would consider it a pleasure and a privilege to assist you with the process. Our dynamic team of buyer specialists will offer you highly personalized and professional service every step of the way. Call Sandi 530-864-5407 or email [email protected] to get started!
Authored by | Discussion: Comments Off on Top Ten Legal Mistakes Buyers Make When Purchasing Chico Real Estate
January 24th, 2010 Categories: Chico CA Foreclosure Listings
The following foreclosure properties are in pre-list stage with The Sandi Bauman Team! at Chico Homes.
Watch for them to hit the market soon!
2935 2nd Street, Biggs
4 Coolwater Court, Chico
862 E. 5th Avenue, Chico
1155 Ceres Manor, Chico
1408 Citrus, Chico
1857 Devonshire, Chico
3265 Rockin M, Chico
2279 W Biggs, Gridley
6438 Woodward, Magalia
14753 Nimshew, Magalia   ** This property is a SHORT SALE
322 Butte, Orland
328 Crane Avenue, Oroville
1693 16th Street, Oroville    **This property is a SHORT SALE
4169 Oroville Bangor, Oroville    **This property is a SHORT SALE
459 Washington Street, Willows
625 N Shasta Street, Willows
820 Madrone Manor, Willows
Listings now ACTIVE!
If any of these greater Chico Homes properties interest you, please email your contact info to

[email protected]

. We will notify you as soon as we have a list price!
Authored by | Discussion: Comments Off on Chico Real Estate: Upcoming Listings and New Properties for Sale w/e 1/23/2010
September 5th, 2008 Categories: Chico CA Real Estate News
 by Mike Wiegert
The two really hot topics in the Chico real estate world today are "short sales" and foreclosure sales.  "Short sales" are pre-foreclosures.
Usually, the beleaguered homeowner still resides in his or her home and is several months in arrears in the mortgage payments.  Unable to see an exit strategy from this disastrous situation, the desperate homeowner lists his or her home well below what is currently owed to the bank. Both the homeowner and the agent hope that in the event of an offer, the bank will approve the offer by offering a discount of the amount owed by the mortgagee and also approve associated costs of the transaction.
This hope is sometimes just wishful thinking as banks do not approve all "short sale" offers that are sent to them.
In fact, nationwide, the frenzy to buy homes is at such a great profusion that banks and asset manager's desks are literally clogged with offers, many of which are well below what the mortgage holder would be willing to accept as a payoff.  Buyers that are understandably frustrated by submitting offers with no response or faced with  an everlasting wait period  are really just victims of the unrefined system many banks use to handle the excessive numbers of offers they receive.  Many of these offers are frivolous attempts to buy real estate by investors seeking an unrealistically low  price.
A common problem with submitting a "short sale" offer is simply just the manner of how it is presented to the bank holding the mortgage.  Even fair market offers are difficult for the mortgage holder or asset manager to come to a decision on without the necessary tools to evaluate the offer and subsequent sale of the  property.  Many agents make the mistake of submitting the standard California Association of Realtors Purchase Agreement and nothing more.  Big mistake!  The banking powers that be have nothing to work with.  Important attachments to this offer begin with a hardship letter from the Seller explaining in plain language why they are unable to continue to make their payments and as a result feel forced to sell their home.  This letter in itself is not enough.  The desperate Seller must prove to the mortgagor that the content of the letter is true.  Financial statements, full tax returns, pay stubs, bank statements and any available creditor letters included with the letter will definitely influence a banker or asset manager struggling whether or not to approve your offer.  Additionally, the person handling your case may live in Baltimore, MD and have no idea what a 3 bedroom, 2 bath, 1,500 square foot house in Chico, CA is worth.  Minimally, a BPO (Broker's Opinion of Value) if not a certified fee appraisal should be included in the package that accompanies your offer. The point is, you don't see your attorney going into court without substantiating evidence to plead your case.
If you want a successful short sale, you need to also plead your case with any documentation you can provide that will support your argument in favor of a mortgage discount.
Much of what I've said here applies to foreclosure sales also.  Many lenders and the asset managers that represent mortgage holders just don't care about the "time is of the essence" clause or expiration date in your offer.  In fact, many mortgage representatives purposely price foreclosed homes well below market value and wait for a flood of offers.    Banks know that if you have several would be homeowners waiting to get a response to their offers, this creates desire and there is a tendency for at least one of the more emotional buyers to raise their offer above what they may think the other buyers have offered.  Unfortunately for all, this really does happen a lot of the time.
My advice: In a "short sale" or foreclosure transaction, don't play around.  Offer the most that you are willing to pay for the home.
If you don't get a response in a reasonable amount of time, go on to another property and make a bona fide, realistic offer.  Otherwise you may find yourself competing over and over with little or no results.
Authored by | Discussion: 3 Comments »
August 29th, 2008 Categories: Chico CA Foreclosure Listings
Authored by | Discussion: Comments Off on Chico Real Estate Foreclosures
August 13th, 2008 Categories: Chico CA Real Estate News
by Mike Wiegert
Chico Real Estate: Temperatures Rising, And That's Not All
A recent forecast by the National Association of Realtors projects significant gains in future months as early as the fourth quarter of 2008 into the first quarter of 2009. This newfound optimism is spurred by an encouraging movement by buyers to avail themselves of provisions of newly passed housing stimulus legislation, the Housing Act of 2008. I've been talking about this new legislation for weeks and again recommend anyone seeking advice and counseling, particularly in matters pertaining to foreclosure to visit the Housing and Urban Development website.
The Pending Homes Sales Index, used by Realtors and Economists to predict the forward movement of the market rose 5.3 percent in June over May. In recent months homes sales have been rising and falling within a modest level. Lawrence Yun, NAR chief economist explains, "The vacillation of data from one month to the next indicates a housing market in transition. The rise in pending home sales was broadbased with all four regions showing gains. This is welcome news because a rise in contract activity is necessary for and overall housing recovery.
With a tax credit now available to first-time home buyers, increases in home sales could be sustained with the momentum carrying into 2009." The profound element of this statement is that we are seeing recovery in all four national regions. Heretofore, market recovery appeared to be segregated to certain geographic areas. It may be a bit premature, but it appears despite all our economic woes, oil prices are finally dropping, the dollar finally rising and the real estate market as a whole is showing signs of regaining some of it's former esteem.
Regionally, PHSI figures appear as follows: In the West the index rose 4.6 percent, understandable given the continuation of an active foreclosure market caused by the abundance of subprime lending two and three years ago. In the South the index leaped a whopping 9.3 percent, the largest gain of all four regions. The Northwest rose a soft 3.4 percent. Lagging behind at last was the Midwest with a meager 1.3 percent. But again, all regions are moving in the same upward direction.
Want to hear something really earth shattering? Our neighbor to the south, Sacramento/Roseville is reporting a flurry of new sales in June and July where buyers appear to be unwilling to wait any longer and are taking advantage of the glut of affordable housing. Other areas similarly experiencing strong increases in sales activity are Las Vegas, NV and Ft. Meyers, FL. NAR President Richard F. Gaylord applauds the newly passed legislation and predicts long term benefits as a result. "
Provisions to stem foreclosures are helpful, but a greater lift to the economy should come from higher mortgage limits, enhancements to the FHA loan program and the first-time home buyer tax credit. These are excellent tools that will help buyers get into the market to take advantage of the unprecedented drop in home prices in many areas, as well as a wide selection of inventory, to make an investment in their future," Gaylord said. Additionally comments by Lawrence Yun jibe with Gaylord: "Buyers entering the hardest-hit markets, in some cases with multiple-bid offers, may have put a floor on prices," he said. "In addition, rising commodity prices and higher construction costs have resulted in a very unusual market today with existing-home prices being less than replacement building costs in some areas. Home prices are projected to increase 3 to 6 percent in 2009."
Now may be the time for the prudent investor to pay close attention to the transitioning real estate market.
It certainly sounds self-serving for a Realtor to suggest an early jumping on the band wagon, but with historically low interest rates expected to stay below 6.5 percent well into 2009, present market conditions appear to be one of the great periods of opportunity that we only get to see a few times in a lifetime.
Authored by | Discussion: 1 Comment »
August 11th, 2008 Categories: Chico CA Foreclosure Listings
Authored by | Discussion: Comments Off on Chico CA Area Foreclosures Hotsheet
July 31st, 2008 Categories: Chico CA Foreclosure Listings
Authored by | Discussion: Comments Off on Chico California Real Estate REO Hotsheet
July 28th, 2008 Categories: Chico CA Foreclosure Listings
Authored by | Discussion: Comments Off on Chico Real Estate REO Hotsheet
July 24th, 2008 Categories: Chico CA Foreclosure Listings
Authored by | Discussion: Comments Off on Chico Real Estate Pre-Foreclosure Hotsheet