February 28th, 2020 Categories: Chico CA Real Estate Market Stats
The real estate inventory in Chico is LOW! If you've been kicking around the idea of selling, now is the time to call us for a FREE Home Valuation.
Just how low is LOW?
Well, as of this morning, there were only 96 single family detached homes available in Chico. It apparently hasn't been this low since 2002!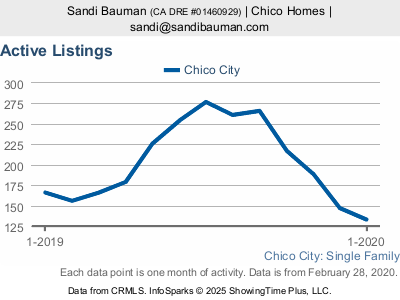 To put that crazy 96 number into perspective, there are currently 148 pending sales, and 99 sold in the past 30 days. We have less than one month's worth of inventory!
Suffice it to say, buyer's agents are working extra hard to find properties to suit their buyer's needs. When a property is priced correctly, it is likely receiving multiple offers in a short amount of time. If buyers and agents aren't right on top of it, they will miss the sale.
Median days on market? 12
Sale price compared to original price? 96.9%
Median Sales Price? $395,000. That statistic is up about 7% from November 2019 through January 2020.
LIST YOUR HOME NOW TO TAKE ADVANTAGE OF LOW INVENTORY
Traditional wisdom tells us that the best time to list is in the spring. After all, the flowers are blooming, the grass is green, the birds are chirping. Unfortunately, a large number of other Chico sellers will be putting their homes on the market at the same time. Chico is experiencing an early spring anyway, so why wait until there is more competition?
Ready to sell your Chico property? 3>
It would be my pleasure to discuss your unique property and potential market value.
Authored by | Discussion: Comments Off on Chico Real Estate Inventory Is LOW. List Now.