February 28th, 2020 Categories: Chico CA Real Estate Market Stats
The real estate inventory in Chico is LOW! If you've been kicking around the idea of selling, now is the time to call us for a FREE Home Valuation.
Just how low is LOW?
Well, as of this morning, there were only 96 single family detached homes available in Chico. It apparently hasn't been this low since 2002!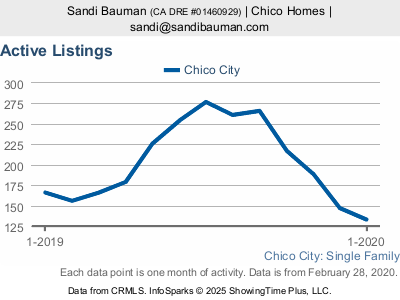 To put that crazy 96 number into perspective, there are currently 148 pending sales, and 99 sold in the past 30 days. We have less than one month's worth of inventory!
Suffice it to say, buyer's agents are working extra hard to find properties to suit their buyer's needs. When a property is priced correctly, it is likely receiving multiple offers in a short amount of time. If buyers and agents aren't right on top of it, they will miss the sale.
Median days on market? 12
Sale price compared to original price? 96.9%
Median Sales Price? $395,000. That statistic is up about 7% from November 2019 through January 2020.
LIST YOUR HOME NOW TO TAKE ADVANTAGE OF LOW INVENTORY
Traditional wisdom tells us that the best time to list is in the spring. After all, the flowers are blooming, the grass is green, the birds are chirping. Unfortunately, a large number of other Chico sellers will be putting their homes on the market at the same time. Chico is experiencing an early spring anyway, so why wait until there is more competition?
Ready to sell your Chico property? 3>
It would be my pleasure to discuss your unique property and potential market value.
Authored by | Discussion: Comments Off on Chico Real Estate Inventory Is LOW. List Now.
December 21st, 2007 Categories: Chico CA Foreclosure Listings, Chico CA Real Estate News
by guest writer, Mike Wiegert- broker, Chico Homes Real Estate
If you are worried about keeping up with your Chico CA house payments or you've received a letter from your mortgage lender, take a moment to read this article.
The problem won't go away by itself!
1. Don't ignore your lender. They want to help you and will discuss the problems you are having. They have options to help you through these financially hard times. They can offer great advice to prevent you from getting into foreclosure. "I didn't get the mail" or "I didn't read it" are not valid excuses in foreclosure court. Disregarded mail usually turns into notices of legal actions.

2. Read your mortgage documents. Remember all those papers you signed when you bought your house? Dig them out of whatever hole you put them in and read them. You need to understand what your rights are and the procedures your bank will take to protect their interest in your property. Research other valuable information about foreclosures besides the information offered to you by your lender. An excellent source? Try: www.fha.gov/foreclosure/index.cfm.
3. Get some credit counseling. The U.S. Department of Housing and Urban
Development (HUD) offers free or very low cost housing counseling and information. A HUD counselors will outline options for you, help you organize your finances and even assist you in negotiating with your lender.
For more information call (800)569-4287.
4. Watch out for foreclosure prevention companies and foreclosure recovery scams. Although there many legitimate companies that will offer to assist you for a fee ranging anywhere from two to three months mortgage payments, most of their information and assistance is available to you through HUD as mentioned above. Don't waste your money at this critical time. NEVER sign your home over to an individual or company that claims it will act on your behalf. As always, enlist the help of an attorney or trusted real estate professional before signing any document conveying the title to your home.
Lastly, if you can't continue to make your payments consistently, contact a local real estate professional to help determine the actual market value of your property in todays market. Engage the services of a competent and trusted Realtor. Don't allow yourself to be lured into a listing agreement by an exuberant agent or broker claiming he can get you much more than the others simply because of his extraordinary talents. Ask the agent to provide you a detailed Competitive Market Analysis showing actual, recently sold properties in your neighborhood with similar features and in like condition to your home. The California Department of Real Estate not only allows agents and Brokers to negotiate their commission, but encourages it. Share your extenuating circumstances with your agent. Trusted friends and relatives can be a good source of recommending a Realtor that served them well.
Looking to buy or sell Chico CA Real Estate? Need a Top Producing Chico CA Realtor? Call Sandi Bauman 530-864-5407 or email [email protected]. Specializing in REO, residential, relocation, investment & ag property.
Authored by | Discussion: 6 Comments »